Financial Planning That Makes Sense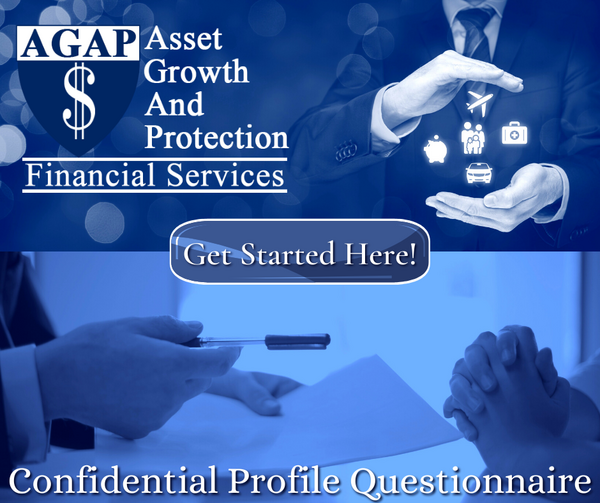 Financial Services
As your guide through the maze of life, we help you continually define financial objectives and execute actions that move you toward your desired economic outcomes.
Whether your goal is to put your children through college debt-free, build a business that provides enduring financial security for your family, or ensure you do not become a financial burden on others, we will help you reach financial success.
Financial and Life Planning
Most people have plenty on their plate already without having to constantly worry about money. Everyone needs a plan to achieve their financial goals. Making that plan shouldn't be stressful, though. AGAP Financial Services helps clients craft financial plans that fit their investment and retirement goals. more....
401k Planning
We believe the answer to this question begins while you are still working. That's why we have been helping hundreds of clients manage their retirement savings. We want to provide you with the investment advice and guidance that will answer the questions you have now – as well as the ones you will have when you retire. more....
Retirement
Life is full of milestones. You will have questions. We can provide a full range of advice and answers. We work with spouses and children to ease the transition – guiding them through a difficult time when you are no longer able more....
Estate Planning
Financial planning maps out your future and creates an environment in which your family can be secure and thrive. Planning for a time when you will no longer be around is an important part of ensuring that future well-being. Estate planning allows you to arrange for the distribution of your financial assets to your heirs or intended beneficiaries after your death or incapacitation. more....
College Planning
A college education is one of the single most important tools for a successful future. The cost of obtaining that education, though, has never been higher, and continues to grow at a rate greater than inflation. Investing now in education for yourself or your loved ones can greatly reduce or eliminate crippling student loan debts. more....
Medical Supplements
Be ready to handle what comes your way.Life's full of unexpected moments. Planning ahead with supplemental insurance plans can help you feel more ready to handle the medical costs and out-of-pocket expenses that often accompany these unexpected events.more....
Life Insurance
From everyday moments to major milestones, we understand that family is your most important asset. Our life insurance solutions can help you put your family first more....